L&J Engineering can provide Project Management for your engineering project. Get in touch to find out how we can reduce the strain on your resource.
Machining & Manufacture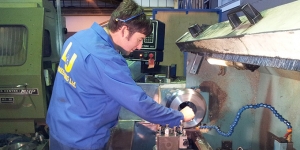 L&J boasts a modern, very well equipped machine shop with an array of various machinery geared towards heavy industry.
Our machinery asset list includes:-
2 off CNC Multi tool Lathes
5 off lathes of various capability
1 off Kearns and Richards Horizontal Borer
3 off Milling Machines
2 off Radial arm drills
1 off Butler Slotter
Surface Grinder
Various other machinery
L&J prides itself in saving the customer money by manufacturing spare parts from either Drawing or Pattern. This usually shows a saving of approx. 50% compared to OEM prices.
We also build up comprehensive CAD drawing files of every part we manufacture for future orders.
L&J offers a consignment stock alternative to its customers and this greatly reduces parts supply lead time. L&J will keep a part in its extensive stores until you the customer needs it.
We currently have 4 full-time, time served skilled machinists from various backgrounds who excel in everything that they do. In addition, we offer a 24/hr facility where we can work shifts until the job is completed.
Service Features
Quality machinists from various background including aerospace industry
A fast solution to long delivery times
A 24/7 working regime if and when required to help the customer
A modern well equipped machine shop with the capability of handling most jobs in house.
Benefits to You
We can save you 50% on OEM component costs, with no reduction in quality or precision
Whether your project requires one-off component manufacture or large batch, we have the facilities and capacity
We can cater for consignment stock and securely hold components in our stores until required, reducing lead time
We can handle your machining needs whether a new component from drawings or whether replacing worn parts